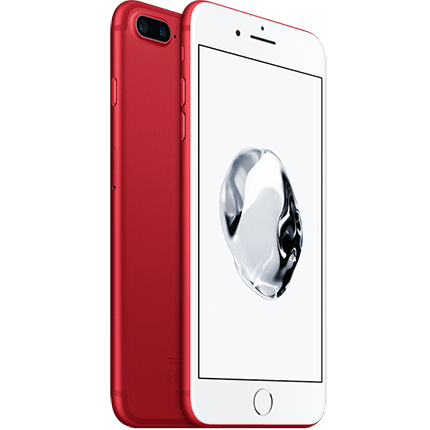 (PRODUCT)RED iPhone
Each time someone buys a product from the series RED, Apple sends a contribution to the global fund which uses the entire amount of contribution to finance HIV/AIDS programs that help people affected with HIV in Ghana, Lesotho, Rwanda, South Africa, Swaziland, Tanzania, Kenya, and Zambia.
These programs provide counselling, testing, and medicine that prevents the transmission of HIV from a mother to her unborn child. So far, apple has raised over $130 million through the sale of (RED) products.
---
Is RED iPhone any different from its predecessor?
No, there's no difference in hardware/software specifications except the body colour, which is a shinier shade of red. Also, the RED variant is available only in 128GB spec-price
Is iPhone 7 worth the upgrade?
Considering the 10 upgrades for the additional INR 10,000 on iPhone 7-
Processor
A10 on the 7 claims to be 30% faster than the A9 on iPhone 6S but wait.. was the 6S ever slow? Nah.
That's not much of a concern as the 6S ruined onePlus and Galaxy on the speed test despite being an year older than both of them.
What I intend to say is, the 6S still outperforms all other phones in the market in terms of speed and processing.
So the 7 doesn't feel faster as 6S is sufficiently quick itself. But the little extra power would come in handy when you upgrade your OS with next year's release.
Aux vs Lightning Port
Firstly, I never I used my ear-pods with the phone being plugged in or felt the urgency to do so.
Reason being, the iPhone charges pretty quickly and lasts quite longer especially under low-power mode
Having tried the same iTunes-track with the aux as well as the lightning earpods, I would say the latter deliver better results!
Personally, I prefer wireless music-gear. In case you have pretty expensive wired ones which you don't wanna give away that easily, the phone comes with an adapter to solve the purpose.
Waterproofing
Apple took a long time to incorporate the idea but wait, the pixel still doesn't have it! Samsung's way ahead both of them in this case.
Having dropped the 6S in water once, I realised it doesn't die this easy and worked just fine there after. Anyway, having a waterproof device is always recommended, especially when you are paying a premium.
Stereo Speakers
Surround on the iPhone 7 is quite louder and "way" better.
Home Button
The new button is pressure sensitive.
Logically, the home button is no longer a physical button but experiences haptic feedback when pressed and can be set among the 3 pressure levels
On researching about the problems faced by users in terms of wear & tear, the most common ones were damaged lock and home buttons.
So with fewer moving parts phone's becomes durable and lasts longer, I guess.
Camera
FRONT

6S packs a 5 megapixel camera while the 7's upgraded to 7 mega-pixel and definitely captures better.

BACK

Though apple claims same camera on the two, the 7 shoots a little more stabilised videos.
While a layman can't tell but the pictures shot on 7 are slightly better and cover larger area with enhanced aperture.
In a distant corner, the Pixel smirks at the two. But there's 7 plus boasting raw formats!
Display
Though the RGB and shiz display has been acclaimed well, it was hard for me to tell the difference.
Battery
6S takes an hour for a full charge and lasts sufficiently long.
6S comes with a 10 WATT charger while 7 with a mere 5 WATT one.
7 takes more time for a full charge but lasts considerably longer as well.
Design Aesthetics
Bigger camera lens on iPhone 7 makes it impossible to use the cases built for 6 and 6S, so you would need a newer one in that case.
Antenna bands are white on Gold and Rose Gold, grey on Silver, black on matte black and invisible on Jet black
Jet Black appears full glassy and attracts a lot of impressions.
Jet black and Red are available exclusively in 128GB and 256GB.
I personally prefer the matte Black variant, followed by Red, Rose Gold and Silver. And I guess it's time Apple shuts the Gold variant with next release.
Operating System
6S is expected to get latest software support and upgrades till the year 2020 while 7 is expected to receive till 2021.
That matters only if you are interested in investing for a longer time and not looking for an upgrade in near-future
If you are using iPhone 6 or any variants prior to its release, the upgrade's definitely worth it. While it's not recommended for the 6S owners.