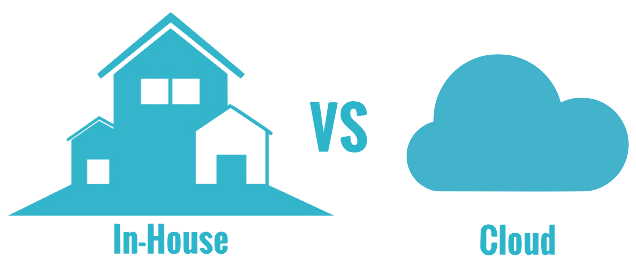 Which category suits your business?
Cloud computing is comparatively new but tends to hold great potential in terms of upcoming applications. Keeping its benefits aside, let's start from the base level to rule out the better alternative among Cloud and Physical servers.
Foremost thing is to define the uptime of your product. Thus the time-period for which your product needs to be operational has quite an impact in the decision process; for instance: web based businesses require greater uptime than non internet-reliant products. To the non-tech officials, it might look like a black-or-white selection but there's a lot more to consider before investing in.
In-house Servers
The traditional hosting modes i.e. the dedicated servers follow a simple protocol wherein the hosting party simply buys or rents a physical server from a provider and pays accordingly. Post payment, there's usually a waiting period for the installation process and these servers cannot be used immediately.
In-house servers are relatively vulnerable to data loss and natural hazards.
In house servers require high amount of capital investment for hardware and appropriate space to be installed in, say a room or closet along with experienced technical support. Thus they offer entire control to the administrator to restrict the access of third parties and lets him modulate as per the requirements. Though these servers do not guarantee uptime but they rule out the necessity for an internet connection and can be cost effective this way.
Cloud Servers
Cloud computing is expected to be the sole solution for hosting services in the coming years. It is currently catching eyes for seamless data storage facilities, making it a safer substitute for data centres. Unlike the dedicated servers, a cloud based server is outsourced and runs in a virtual environment i.e. only a single physical server caters numerous instances of cloud servers. It is actually a dedicated server in the back-end but users aren't aware of the hardware it is built on and other specs of the server.
Cloud servers are solely dependant on the internet capabilities of the user and allows third parties to access user's data stored within them. And without internet, no data can be extracted out of the server. Though the cloud servers are costlier, they have numerous advantages over the physical servers:
Saves the money to be invested in capital and hardware components
Thereby funding the development of other sectors of organisation.
Easy to upgrade
CPU/RAM and storage can be expanded as and when required.
Offers flexibility to employees
Can access data whenever they wish to and with whatever device they want to.
Reduced data loss
Frequent automated cloud backups
On the other hand, there's also an option to use a mix of both the servers. For example: hybrid systems store data locally for network and transfer capabilities and at the same time, entire content is backed up on the cloud for immediate access.
The biggest difference between dedicated and cloud servers is based on reliability. As the data is stored and extracted from multiple machines on the cloud, even if a single system crashes, the product hosted on it wouldn't go down. To the contrary, in case of failure in a dedicated server, no backup machine kicks in for support and hosted product goes down until the server is repaired or data is transferred to a newer machine.
Based on the above stated facts and the rate at which tech companies are flourishing today, organisations in growing stage are bound to heavy upgrades for storage and performance of servers. While performance upgrades are complex in case of dedicated servers, cloud offers simple API based tools for the same. At the same time, for businesses with strict security compliances, use of dedicated hardware is suggested.